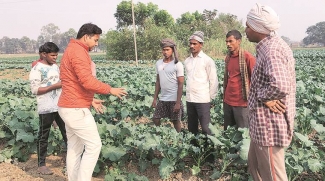 Till nearly two years ago, Suhawan Singh Rathore from Bihar had the world before him. He had completed his Masters in Development at the Azim Premji University in Bengaluru, and started working as an innovation officer at a private firm in Bhubaneswar.
"I had always regretted not spending enough time at my village in Pathakchak, where I grew up listening to stories of threats from Maoists who were disrupting development projects. Going back to Jamui early last year was like a payback opportunity for me to help my own people," says Rathore.
The 27-year-old also helps farmers take their yield to sell in Patna, Ranchi and other towns. He is also working on plans with a group of volunteers that he put together, Green Saver Welfare, to start their "own market locally called Apna Mandi".
Read more of this in a report by Santosh Singh, published in The Indian Express....
News Source
The Indian Express