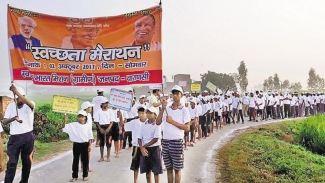 Over 300 hamlets in Prime Minister Narendra Modi's parliamentary constituency Varanasi were declared open defecation-free (ODF) on Monday.
With this, every house in 610 villages of the district, out of a total of 1,332, have got toilets. The district administration said December 31 has been fixed as the deadline for making the entire district open defecation-free.
Prime MInister Modi had hailed the UP government for naming toilets as 'izzat ghar' (house of honour). "While I was laying the foundation of a toilet, I saw 'Izzat ghar' written on toilets already been built. A toilet is truly 'izzat ghar', especially for women.
Read more in a report by Sudhir Kumar published in Hindustan Times...
News Source
Hindustan Times