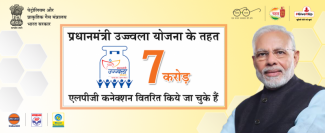 As per information given by the Union Minister for Petroleum and Natural Gas Dharmendra Pradhan, in a written reply in the Lok Sabha today, 723,25,948 connections have been released under Pradhan Mantri Ujjwala Yojana. 714 districts of the country have been covered under the scheme. 
The salient features of the Pradhan Mantri Ujjwala Yojana(PMUY) scheme are as under :-
(i) LPG connection is released in the name of adult woman of the poor family, subject to the condition that no LPG connection exists in the name of any family member of the household and fulfilling other terms and conditions.
(ii) Initially, the beneficiaries under PMUY were identified either from SECC list or from seven other identified categories. Subsequently, Government has extended the benefit to all left out poor families under PMUY subject to fulfilment of terms & conditions.
(iii) Under the Scheme, cash assistance upto Rs 1600/- for providing new LPG connection is provided by the Central Government.
(iv) The beneficiary bears the cost of Hot Plate and purchase of first refill. The beneficiary has the option to take Hot Plate or purchase first refill or the both on loan basis from Oil Marketing Companies (OMCs) at zero interest and the same is recovered through subsidy.