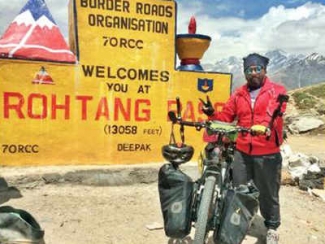 At a time when the city's residents are up in arms to prevent thousands of trees from being felled, another Delhiite — Tarun Jha — is trying to make a difference in a unique way. A fashion and commercial photographer by profession, 38-year-old Jha undertook a 1,200km journey to Leh in Ladakh on a bicycle to highlight the problem of high pollution the capital is facing and to encourage people to switch to cycling.

The journey, which was completed on Monday, took Jha close to 20 days after he set out from the capital on June 13, 2018. He cycled for 6-12 hours a day to complete the distance. His equipment and baggage weighed 138kg in total. "If I could carry this weight on a bicycle for 1,200km, Delhiites too can take up cycling, especially for short distances," said Jha.
Read more of this remarkable feat in a report published in The Times of India....
 
News Source
Times Of India