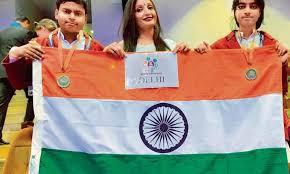 Satyam, and his classmate Harshita Rao, 17, won bronze medals in chemistry at the international competition held in the first week of September in Moscow, becoming the first team from a government school to bring home a medal.
When 17-year-old Satyam, studying in a government school, applied to participate in the 4th International Olympiad of Metropolises in Moscow — where he won a bronze medal on Friday — he did not even have a passport.
The two were among the eight students from Delhi government schools who flew to the Russian capital to participate in the Moscow Olympiad, held for the students aged 14-18 years. The duo competed against 44 teams from across the world.
Started in 2016 by the mayor of the city, Moscow Olympiad tests participants on their knowledge of physics, chemistry, mathematics, and informatics on three different tests. The students are judged by a jury comprising world-renowned professors and scientists.
Read more of this in a report by Kainat Sarfaraz published in Hindustan Times...  (Link given below)
News Source
Hindustan Times