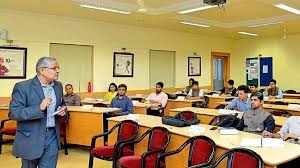 Simran Kaur Reel, 24, is interning with the Bharatiya Janata Party's (BJP) women's wing; Sahil M Parsekar, 22, is working as a volunteer with the Aam Aadmi Party (AAP) in the national capital. While the two have different political affiliations, what they have in common is the fact that both have got formal training in politics. Parsekar attended a master's programme in political leadership and government at the MIT School of Government (MITSOG) last year and Reel completed a post graduate programme in leadership, politics, and governance at the Indian Institute of Democratic Leadership (IIDL) this February.
In fact, they are among hundreds of young aspiring politicians who believe that politics, like any other occupation, requires formal training. And catering to them are a host of private institutes that offer certificate, diploma and degree courses in electoral politics and governance, whose duration ranges from one to two years, and fee from Rs 3 lakh to a whopping Rs 16 lakh. There are a few, cheaper online courses, too, whose curriculum covers topics such as "identifying the social cause to make your profile, creating a lobbying plan," media management and political oratory, among others.
"These days, politics, especially electoral politics, is more complex and competitive than it used to be. And like any other profession, one needs the training to succeed. I want to contest elections in a few years, and the course has prepared me for that by providing me with both practical and theoretical knowledge of the subject," says Reel. As an intern with the BJP Mahila Morcha's national office, she says, she helps the president of the women's wing with speeches, goes on poll campaigns and makes campaign reports. "Post 2014, electoral politics have changed completely. The general elections have become more like the American presidential elections in style and require a whole new kind of marketing and management. The course has equipped me with the requisite tools and training," says Parsekar.
"In the first year itself, our programme got 800 applications and almost the same number in the second year. Students have to write a statement of purpose and appear for an interview, which helps us gauge the applicants' thoughts, ideology, commitment and leadership qualities. Most of them are young, aspiring politicians from different backgrounds, including engineering and management," says Ravi Pokharna, the deputy dean of IIDL.
The IIDL's curriculum includes 'basic political concepts, media management, constituency management, public speaking and nationalism,' among others. The idea behind the course, Pokharna says, is to help those without any political background and connections to break into politics by giving them the required knowledge, exposure and practical skills.
Classroom lectures for the one-year residential programme are conducted at the IIDL's 14-acre campus on the outskirts of Mumbai by "academics, subject and domain experts, policy makers, elected representatives, politicians, administrators, journalists and activists".
For those who don't have time to attend classes, there are institutes in Delhi that offer online certificate courses too.
Read more of this in a report by Manoj Sharma published in Hindustan Times...
News Source
Hindustan Times