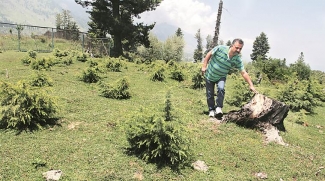 The passion and commitment of Abdul Hamid Bhat, 51, is to plant trees across Kashmir, which has witnessed large-scale deforestation. Over the last nine years, he has helped plant over one lakh trees, mostly pine, across the Valley with his own funds.
Initially, Bhat says, he planted trees on a "small scale". "The first massive exercise began in 2010, when I planted almost 20,000 trees in different parts of Kashmir. To reach far-off places, I took help from the National Service Scheme (NSS), local volunteers and students of different schools. Initially, I used to get pine trees from the Forest department for Rs 2 each and chinar free of cost, now the rates have touched Rs 15 and it takes another Rs 15 for transportation and other expenses for each sapling,'' he says.
This is another story published in The Indian Express in their THE CHANGE PAGE. Read more of this in a report by Mir Ehsan....
News Source
The Indian Express