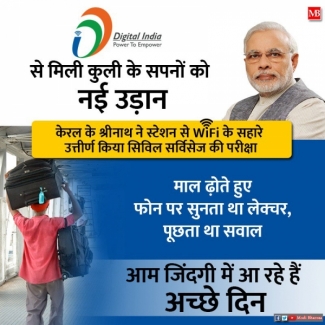 Sreenath K., a coolie at the Ernakulam railway station in Kerala has cleared the written test of the Kerala Public Service Commission. And to his help came the free wi-fi provided at the railway station. 
Sreenath has been doing this job for the last five years. He says that even while carrying luggage he used to have the earphones on and listen to the lessons on internet with the help of free wi-fi at the station.
In a tweet on Thursday, Railway Minister Piyush Goyal has said, "Our aim is to provide free WiFi services in over 7,000 railway stations across the country in the next 1 year, with which the poor of India can benefit and be connected with the rest of the world."