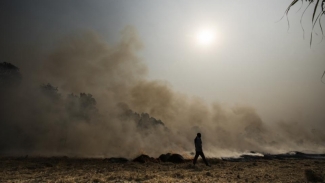 Pollution-plagued Delhi can finally heave a sigh of relief, now that the National Thermal Power Corporation (NTPC) and a few biomass power units have expressed their intent to purchase crop residue from farmers in surrounding states.
Agricultural stubble running into millions of tonnes is burnt by farmers in northern India every October, triggering heavy pollution in Delhi-NCR before the onset of winter. As many as 35 million tonnes are burnt in Punjab and Haryana alone to make room for the winter crop.
Lack of alternatives to immediately dispose of the stubble was the primary reason for farmers setting crop residue afire.
Read more of this in a report by Joydeep Thakur published in Hindustan Times...
News Source
Hindustan Times