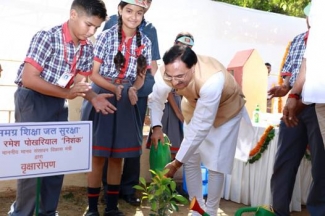 Union HRD Minister Ramesh Pokhriyal 'Nishank' and Union Minister for Jal Shakti Gajendra Singh Shekhawat launched 'Samagra Shiksha-Jal Suraksha' drive at KV no. 2 Delhi Cantt today. The dignitaries planted more than 350 saplings along with School Students and inaugurated Drip Irrigation System in the School campus. In order to create awareness about water conservation among school students, this mega drive targets to connect more than 10 crore students with this programme.
The two ministers also launched a booklet prepared by Department of School Education and Literacy, titled- 'How I am going to save 1 litre water every day?' This booklet discusses those small efforts which can save a lot of water.
Inspired by Prime Minister's impetus on Jal Sanchay, Government of India has launched the Jal Shakti Abhiyan (JSA). It is a time bound campaign with a mission mode approach. This concept of water conservation is essential for students so that they can understand the importance of water and how it is shaping their lives meaningfully, thereby enabling them to participate in water conservation activities in their day to day lives.
The Department of School Education & Literacy, MHRD has launched the 'Samagra Shiksha-Jal Suraksha' drive to promote water conservation activities for School Students, so that they can become competent, conscientious and committed water citizens of our nation. The Department has prepared a detailed outline to implement this programme in all the schools of the country.
Five Major Objectives:
To educate students learn about conservation of water
To sensitize students about the impact of scarcity of water
To empower students to learn to protect the natural sources of water
To help every student to save at least one litre of water per day
To encourage students towards judicious use and minimum wastage of water at home and school level
Target
One Student                -           One Day          -           To Save One Litre of Water
One Student                -           One Year         -           To Save 365 Litres of Water
One Student                -           10 Years          -           To Save 3650 Litres of Water
स्कूली विद्यार्थियों के लिए 'समग्र शिक्षा-जल सुरक्षा' अभियान का शुभारंभ
केन्द्रीय मानव संसाधन विकास मंत्री रमेश पोखरियाल 'निशंक' और केन्द्रीय जल शक्ति मंत्री गजेन्द्र सिंह शेखावत ने शुक्रवार को 'समग्र शिक्षा-जल सुरक्षा' अभियान का शुभारंभ किया। दिल्ली कैंट स्थित केन्द्रीय विद्यालय क्रं-2 में डॉ. सर्वपल्ली राधाकृष्णन सभागार में आयोजित समारोह के दौरान गणमान्य अतिथियों ने विद्यार्थियों के साथ मिलकर 350 से अधिक पौधों का रोपण किया और टपक बूंद सिंचाई प्रणाली का उद्घाटन किया। जल संरक्षण के प्रति जागरूकता लाने के लिए इस अभियान को देश के 10 करोड़ से अधिक स्कूली विद्यार्थियों से जोड़ने की योजना है।
कार्यक्रम में अतिथियों ने स्कूल शिक्षा एवं साक्षरता विभाग द्वारा तैयार की गई एक पुस्तिका का विमोचन भी किया गया, जिसका शीर्षक है 'मैं प्रतिदिन एक लीटर पानी कैसे बचा सकता हूं?' इस पुस्तिका में उन छोटे-छोटे उपायों की चर्चा की गई है, जिनको अपना कर भारी मात्रा में पानी बचाया जा सकता है।
अभियान के पांच प्रमुख उद्देश्य हैं:
विद्यार्थियों को जल संरक्षण के बारे में शिक्षित करना
विद्यार्थियों को पानी की कमी के बारे में जागरूक करना
प्राकृतिक जल संसाधनों की रक्षा करने के लिए विद्यार्थियों को सशक्त बनाना
प्रत्येक विद्यार्थी को प्रति दिन एक लीटर पानी बचाने में सहायता करना
विद्यार्थियों को अपने घर और विद्यालय में पानी की न्यूनतम बर्बादी और उचित मात्रा में प्रयोग करने के लिए प्रोत्साहित करना
लक्ष्य
एक विद्यार्थी    -    एक दिन               -    एक लीटर पानी की बचत
एक विद्यार्थी    -    एक साल        -    365 लीटर पानी की बचत
एक विद्यार्थी    -    10 साल        -    3650 लीटर पानी की बचत