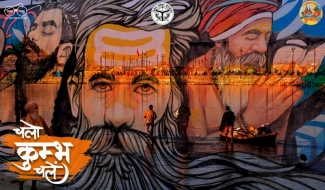 Sanskriti Kumbh, a 29 days cultural extravaganza was today inaugurated by the Governor of Uttar Pradesh, Shri Ram Naik in the presence of the Union Minister of state for Culture (I/C) Dr. Mahesh Sharma in Kumbh Mela area, Prayagraj, U P.
The biggest cultural festival named Sanskriti Kumbh is celebrating the conglomeration of Spiritual Consciousness and Cultural Heritage of India in the main premises of Kumbh Mela area. The Ministry of Culture, Govt. of India is organizing Sanskriti Kumbh with intent to showcase the rich Cultural Heritage of India in all its rich and varied dimensions viz. Performing Arts- Folk, Tribal and Classical art forms, Handicrafts, Cuisines, Exhibitions etc. all in one place.
A 30 minutes choreographed performance by 250 artists of all the Zonal Cultural Centres was presented in the inaugural ceremony today which gave a gist of the grandeur of the coming 29 days.
In the Sanskriti Kumbh, an opulent main stage near Arail Ghat , Sector 19 is set up in  Mela premises where Folk Dance and Singing performances by  renowned Artists is taking place in two phases i.e 2pm to 5pm and 6pm to 9pm daily. The cultural performances will be continued for 29 days i.e upto 23rd February,2019 ( excluding Holy Bath days) . The cultural performances includes the legacy of India's Spiritual and Mythological  practices. Such dance performances will showcase the inclination of visitors towards devotion and Kumbh tradition. The folk dances, representing states from EAST WEST NORTH SOUTH India, will showcase the spirit of Unity in Diversity that is Ek Bharat Shreshtha Bharat. The artists representing 7 Zonal Cultural Centres have been enjoined upon the task of performing at main stage as well as taking it to different locations of Kumbh Mela .
Sanskriti Kumbh is deemed to showcase all aspects of Indian Culture in different areas designated for the same. Accordingly, a Kalagram is also organized in which pavilions are set up by all the Zonal Cultural Centres as well as Academies , Museum and BTI . In this Kalagram Master craftsmen are displaying and selling  their rare handicrafts. Also, delectable Traditional Cuisines prepared by Master chefs from various states is adding interest value with the unparallel experience to the visitors of their culinary expertise. IGNCA set up their Vedic exhibition gallery and Sahitya Akademi is displaying and selling books on various aspects of Indian Culture. Also, Allahabad Museum set up an exhibition on Mahakumbh, CIHCHS, Dahung exhibiting Sand Mandala and Lalit Kala Akademi organising Live Portrait Symposium. In the same premises the Classical Dance , singing and musical performances by artists of National and International stature promises to give a gist of varied musical tradition of India. These performances are being coordinated by Sangeet Natak Akademi and Spic Macay  till end of the festival i.e 4th March,2019.
Under the banner of Sanskriti Kumbh ,  Rashtriya Shilp Mela is being organized in the premises of NCZCC where Shilp Haats are set up to display handicrafts and live demonstration of the skill by craftsmen.
Apart from above mentioned activities , the day long activities of traditional performances of fringe folk art like Behroopiya, Baazigar, Kachhi Ghodi is taking place in the designated places. These artists are also known as Maidani Kalakar as they perform in open area without any stage.
The brief schedule of Sanskriti kumbh is as follows:
| | | |
| --- | --- | --- |
| S.No. | CULTURAL PERFORMANCES | DATE/ SCHEDULE |
| 1 | Tribal , folk and traditional dance performances at main stage | 10th January to 23rd February,2019 ( excluding holy bath days 14th to 16th Jan, 2nd to 11th Feb and 17th to 19th Feb) |
| 2 | Classical performances by renowned artists | 10th January to 4th March,2019 (excluding holy bath days 14th to 16th Jan, 2nd to 11th Feb and 17th to 19th Feb) |
| 3 | Kalagram and Rashtriya Shilp Mela | 10th January to 4th March,2019 |