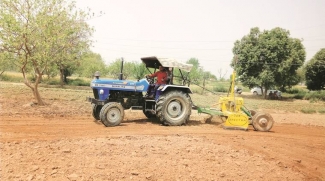 Dinesh Singh Saini has 16 bigha (3.33 acres; one acre=4.8 bigha), of which 2 bigha is dedicated to growing wheat only for self-consumption. On the remaining land, he cultivates vegetables, mainly cauliflower (10 bigha) and tomato (4 bigha).
"Isse paani ki bachat hai aur paidavar bhi zyaada hai (it saves water and also boosts yields)," says Saini about this machine that uses guided laser beam technology, as against conventional bullock/tractor-drawn iron scrappers or wooden planks, for smoothening and leveling of the soil surface prior to sowing.
The 'Spectra Precision' manjha operating on his field basically comprises a laser emitter (fixed on a tripod stand just outside the field that is to be leveled), receiver (mounted on a mast attached to a tractor-drawn bucket with a scraper blade) and control box (fitted on the tractor). The emitter continuously sends out an infrared beam that can travel up to 600 meters radius in a perfectly straight line parallel to the required field plane.
The receiver picks up the beam and converts it into an electrical signal for transmission to the control box. The control box, in turn, activates a valve that regulates the flow of oil from the tractor's pump to the hydraulic cylinder to raise and lower the bucket/ scraper. The scraper guidance is automatic, with the raising and lowering of the blade (which cuts and fills the soil to achieve the desired leveling) simply following the laser beam.
Compliments to The Indian Express to regularly publish such informative stories which can help others too. Read more of this in a report by Harish Damodaran....
News Source
The Indian Express