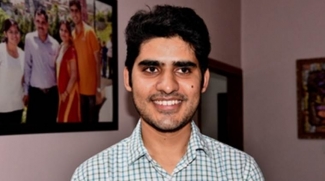 Even before he topped the UPSC examination Friday, Jaipur's Kanishak Katariya had an impressive record. The 26-year-old topped the IIT-JEE in the SC category in 2010 and graduated from IIT-Bombay in 2014, eventually going on to work for Samsung in South Korea.
But more than money, his motivation was "to improve the quality of public governance and administration in India". Moreover, he had observed public service from close quarters — his father Sanwarmal Verma and uncle Kailash Chand Verma are both IAS officers. While the former is the director of the Social Justice and Empowerment Department in the Rajasthan government, the latter is Jaipur's Divisional Commissioner.
In 2017, he quit his job to focus entirely on appearing for the Union Public Service (UPSC) examination. "I was in Delhi for seven-eight months where I had joined coaching classes for foundational understanding. After that I moved to Jaipur for self-studies, and had been preparing by myself for the last year or so," he said.
Katariya said he studied 8-10 hours a day and kept one day of the week to watch movies or follow sports. "But when Mains were round the corner — one-and-a-half or two months — I substantially increased my efforts and put in 13-14 hours daily. I had to study because this was my first attempt and I had a lot of things to cover. And my optional was mathematics, so that also takes a substantial amount of time," he said.
Read more in a report by Hamza Khan published in The Indian Express...
Also read the highlights of the results on the link
http://bharatmahan.in/positive-news/highlights-upsc-result-2018
News Source
The Indian Express