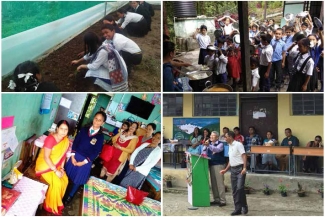 If education is a means to creating a positive, progressive society, then the most critical factor to ensure social upliftment is the school. And hence, it becomes the community's primary responsibility to support its schools. All of teacher's efforts to make learning engaging, improve learning levels, increase enrolment and attendance, and so on, cannot yield any significant results unless the parents and community join forces with the teacher. However, the reality is that often less educated or uneducated parents are indifferent towards education. Many times they do not even consider it important to send the child to school every day, leave alone participating in school activities. That is why 'Community Participation' innovation is so important for every school. It provides solutions to increase community's awareness and engagement in children's education, so they take more interest in upliftment of the school.
Benefits of this innovation
Effective means of helping the community understand the importance of education and school.
Fostering a spirit of mutual cooperation among parents and teachers.
Community members feel valued by becoming a part of children's education, and they are inspired to support the school's development.
Positive changes in learning environment for students, inside and outside the school.
Increase in children's confidence as well as their attendance and enrolment.
Impact areas
Increase involvement of parents in their child's education; Improve motivation levels among teachers.
Summary
The different ideas described in 'Community Participation' focus on involving all kinds of community members—from sincere to uninterested, from professional to illiterate—in the education process. This is done by engaging them in teachinglearning activities so they feel valued and empowered by contributing meaningfully to children's education, and develop an affinity towards the school. There is no special requirement of creating a TLM.




Sujata Rai, Primary School, Dhargaon, Salghari, South Sikkim
Uma D Chettri, Government Senior Secondary School, Luing, East Sikkim
T Shering Chopel Bhutia, Primary School Maypong, Borrong, Ravangla, South Sikkim
Devan Sapkota, Government Junior High School, Pakyong, East Sikkim

ZIIEI is an initiative of Sri Aurobindo Society. Working for over 55 years to transform Education, Sri Aurobindo Society has identified that the Zero Investment Innovations at grassroots in India can be one of the most game-changing accelerators in improving the quality of education.
ZIIEI has been facilitating wide-spread adoption of the most promising "zero-investment" innovations in Education, and helping the State to solve the toughest challenges of making education more effective and meaningful. Presently, it is proving to be a significant step in implementation of the vision of the State Government to establish UP as a role model state of Educational Transformation.
The ZIIEI platform brings together the scattered, isolated and yet-to-be–recognised individual innovations, and is making these collective and inclusive. Each school, educator, and student is intended to be part of a mutually-sustained ecosystem to address the gaps in education—with simple tools—and will earn recognition by the Education Community and the State Government for their successful ideas.
ZIIEI is inclusive innovation at its best also because of the fact that it brings together the government, the schools, and educators, non-governmental and corporate players. While ZIIEI, evolved in response to critical educational needs, has been designed under the guidance of the UP State Government, it is funded by HDFC Bank— a collaboration model that goes beyond even public-private partnership (PPP) to facilitate the best of ideas, research, knowledge-sharing and cross-sector collaborations.