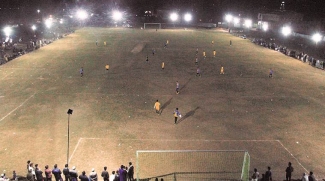 Evenings in Sopore draw hundreds of young men and boys from across the region to a football field in the periphery of this town. They spend at least two hours at this field under floodlights, where Sopore, since early September, has hosted the 32-team 'First Super Cup – under lights'.
Sopore is among the most affluent towns and is known as the fruit bowl of the Valley, but it is also a separatist stronghold and was once a hotbed of militancy, which means security is always high. But since the tournament began on September 5, teams from Srinagar, Bandipore, Kupwara and Baramulla and fans flock to the floodlit field to watch football and gossip. The tournament is slated to end on October 16.
Read more of this encouraging report by Bashaarat Masood published in The Indian Express....
News Source
The Indian Express