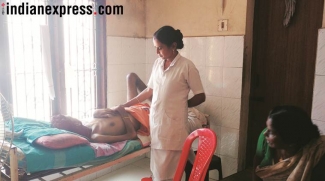 It's 11 am and the morning hasn't begun well at the Anwar Memorial Pain and Palliative Care Society. "Oru marippu undu innu (There has been a death today)," whispers C M Salim, the secretary of the society that runs this palliative clinic in Aluva, 20 km outside Kochi.
About 10 minutes later, a stretcher carrying a man in his 50s is wheeled out, followed by his friends and relatives, and checked into a waiting ambulance. "It was a case of pancreatic cancer. He was 53 and the only earning member of the family. He is survived by his wife and two children," says Suvarna, the head nurse at the clinic. "Nothing more could have been done for him," she adds.
A state with 3 per cent of the country's population, Kerala offers close to two-thirds of the total palliative care in the country, aimed at alleviating suffering and making death, in cases that it is inevitable, more peaceful and dignified.
Read more of this in a report by Vishnu Varma published in The Indian Express....
Need many more of such clinics, all over the country.
News Source
The Sunday Express