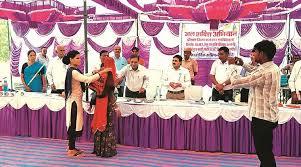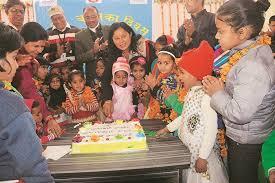 Within a year of the launch of the central government's flagship Beti Bachao, Beti Padhao (BBBP) scheme, Nagaur has become one of the country's 10 best performing districts in the awareness generation and outreach activities category under the scheme. These districts are being felicitated by the central government.
For the Saathins, workers and supervisors, mostly women from rural households, who are a part of the long chain of 2,715 Anganwadi centres across the district overseen by the state's Women and Child Development department, this feat has come as a validation of their work, which they often have to do under difficult circumstances.
Fifty-three-year-old Rukmani Choudhary and a handful of other women make their way down the alleys of ward number 4 in Nagaur's Sanjay Colony, playing dhols and utensils, to a home where a girl has been born recently.
"There was a time when the residents would get irritated when we celebrated the birth of a girl. But we persisted, and insisted on meeting pregnant women to ensure they were not being misled by their families. Initiatives such as the 'Chuppi Todo Abhiyaan' (Break the Silence) helped us to spread awareness about menstrual hygiene," says Choudhary.
News Source
The Indian Express