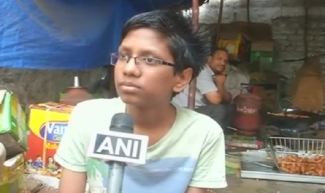 We have been constantly seeing news of how students from even humble background have fared so well in the board or other competitive examinations. On this web site also several news items have been posted citing such examples.
With the JEE Advanced results being announced on Sunday, once again so many cases of such students have come in the media. 
Sunil Kumar from Jhunjhunu, who had scored 91.6% in CBSE last year had failed to qualify for the JEE Advanced last year has secured rank 115 in the OBC category and rank 881 in the general category. Sunil's father pulls an ice cream cart in summers and sets a chaat and gol-gappa stall in winters. 
On 25th May on this web site a news was given of a samosa seller's son ranking at 6 in the IIT-JEE Mains. The boy, V Mohan Abhyas, 16, from Hyderabad has got rank 64 in the IIT-JEE Advanced exams. (see earlier news http://bharatmahan.in/positive-news/samosa-sellers-son-ranks-6-jee-mains-950)
Aanjinappa, whose mother is a daily wage earner in an auto company and whose father has passed away, is still looking as to how he will meet the expenses to study. Till now he was supported by a RSS linked organisation Rashtrotthana Parishat and coaching institute BASE. Another student Prem Kumar Naik, from village Bagalkot, son of a daily wage-earner, who had done his schooling from Jawahar Navodaya Vidyalaya is looking for options to fund his studies. 
Jatin Lamba of Palwal, whose father runs a atta-chakki, has got a rank of 33. Earlier in the IIT-Mains he had got rank 566 and had scored 97% in CBSE. 
One Gograj Khadda, whose father is a mechanic in Rajasthan's village Kabron Ka Baas has also cleared the exams. Similarly Nitin Diwakar, son of an auto driver in Mumbai has cleared is ranked 884. There must be many such achievements in different regions.